ICME 2021 berjaya tarik penyertaan antarabangsa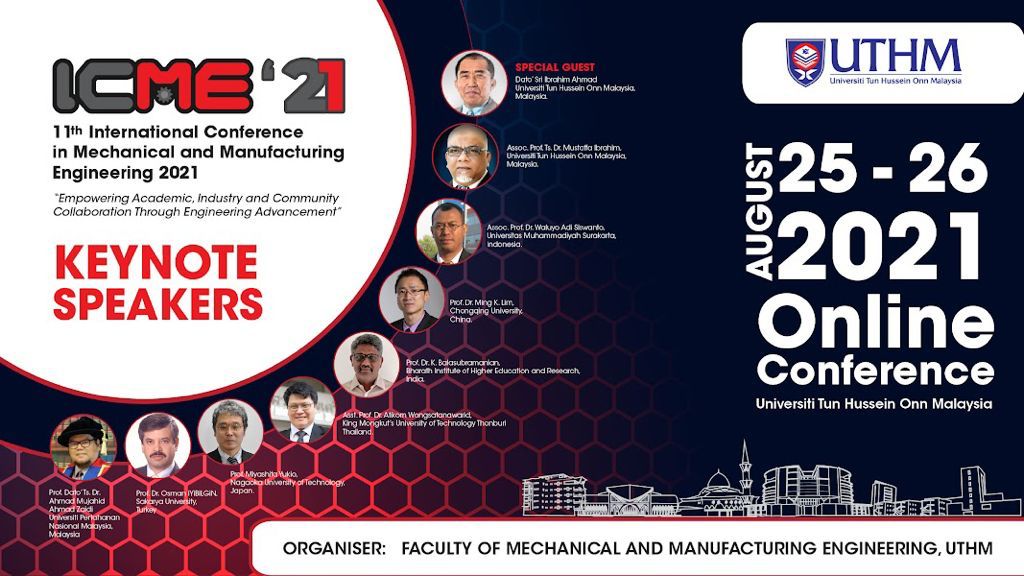 Walaupun pertama kali diadakan secara dalam talian, penganjuran International Conference in Mechanical and Manufacuring Engineering (ICME 2021) kali ke-11 yang berlangsung pada 25 hingga 26 Ogos 2021 lalu berjaya menarik penyertaan hampir 120 kertas kerja dari dalam dan luar negara.
Persidangan antarabangsa anjuran Fakulti Kejuruteraan Mekanikal dan Pembuatan (FKMP), Universiti Tun Hussein Onn Malaysia (UTHM) pada kali ini turut melibatkan penyertaan pengucaptama dari tujuh negara iaitu Malaysia, Indonesia, China, India, Turki, Jepun dan Thailand.
 Penglibatan mereka secara tidak langsung telah menarik penyertaan lebih banyak kertas kerja dari negara serantau itu.
Persidangan tersebut dimeriahkan dengan forum bertemakan 'Empowering Academic, Industry and Community Collaboration Through Engineering Advancement," yang melibatkan panel jemputan dari universiti awam dan swasta, pemain industri aeroangkasa dan badan amal yang mewakili komuniti.
Forum tersebut diadakan bagi membincangkan hala tuju dan potensi kerjasama yang boleh dilakukan oleh ketiga-tiga pihak untuk manfaat bersama.
Majlis perasmian persidangan telah disempurnakan oleh Pengerusi Lembaga Pengarah UTHM, Dato' Sri Ibrahim Ahmad manakala majlis penutup pula disempurnakan oleh Dekan FKMP, Profesor Madya Ir. Ts. Dr. Bukhari Manshoor.
Dr. Bukhari dalam ucapannya melahirkan rasa syukur atas kejayaan persidangan kali ini yang berjalan lancar walaupun pertama kali dianjurkan secara dalam talian.
"Saya berharap persidangan ICME 2022 pada tahun depan akan mendapat lebih banyak penyertaan dari dalam dan luar negara.
"Semoga persidangan seumpama ini  mampu memberi pengisian yang bermanfaat kepada semua peserta dan warga FKMP khususnya," tambah beliau.
Laporan Oleh Ir. Dr. Sri Yulis M. Amin. Laporan Portal UTHM klik di sini.