Bachelor of Aeronautical Engineering Technology
(Professional Piloting) with Honours [BDC]
---
MQA Accreditation: MQA/FA4509
The Aeronautical Engineering Technology (Professional Piloting) program has been developed in response to the requirements of the fast-evolving aviation industry. The program is designed with an emphasis on practical application that would enable students to apply new knowledge in the real-world. It concentrates on the aeronautical engineering technology to provide substantial knowledge and skills for a future aeronautical technologist in related areas and applications. The Aeronautical Engineering Technology (Professional Piloting) program also equips students for a professional career as a commercial pilot. This degree aims to provide students with skills and knowledge beyond the fundamental flying skills required to be a commercial pilot. The degree is designed to equip students to successfully operate in the aviation industry, in the cockpit and beyond. Graduates with a unique combination of flying qualifications and an undergraduate degree may be seen as an asset to their employer.
Why Study Aviation at UTHM?
Study with a leading aerospace and aviation training university UTHM has been involved in aerospace and aviation education and training for more than 10 years, so we have a strong history in educating aviation professionals.
Practical and industry-focused approach Project-based learning and work-integrated learning means you graduate equipped to be effective in a wide range of roles and levels.
Programme Educational Objectives (PEOs)
PEO Bachelor of Aeronautical Engineering Technology (Professional Piloting) programme aims to produce technologist/pilots who:
PEO 1 : Excel in various engineering practices in aerospace/aviation industries or work as professional pilot.
PEO 2 : Hold management or decision-making position.
PEO 3 : Capable to lead business and technopreneurs activities in accordance with national needs and demands.
PEO 4 : Have a strong commitment to lifelong learning and continuous professional development.
Programme Learning Outcomes (PLOs)
PLO 1 : (Knowledge) Comprehend and able to apply the science, mathematics, engineering and aeronautical technology in the field of professional piloting
PLO 2 : (Problem Analysis) Capable of identifying problems, formulating and finding solutions to problems in designing or assessing flight operation performance using systematic approach
PLO 3 : (Design/ development of solutions) Design solutions for broadly defined engineering technology problems and contribute to the design of systems, components or processes to meet specified needs with appropriate consideration for public health and safety, cultural, societal, and environmental considerations
PLO 4 : (Investigation) Conduct investigations of broadly defined problems; locate, search and select relevant data from codes, data bases and literature, design and conduct experiments to provide valid conclusions
PLO 5 : (Modern Tools) Select and apply appropriate techniques, resources, and modern engineering and IT tools, including prediction and modelling, to broadly defined engineering activities, with an understanding of the limitations
PLO 6 : (Engineer and Society) Demonstrate understanding of the societal, health, safety, legal and cultural issues and the consequent responsibilities relevant to engineering technology practice
PLO 7 : (Environment and Sustainability) Understand the impact of engineering technology solutions in societal and environmental context and demonstrate knowledge of and need for sustainable development
PLO 8 : (Ethics) Understand the responsibility and ethics of being an engineering technologist and a professional pilot in the aspects of safety, social, culture and global and the necessity for sustainable development
PLO 9 : (Individual and Team Work) Act effectively as individual and in a team
PLO 10 : (Communications) Communicate effectively with professionals and non-professionals
PLO 11 : (Project Management and Finance) Demonstrate knowledge and understanding of engineering management principles and apply these to one's own work, as a member and leader in a team and to manage projects in multidisciplinary environments
PLO 12 : (Lifelong Learning) Possess awareness and commitment for lifelong learning
How You Will Learn
To produce competent, technically skillful, and innovative graduates, the Aeronautical Engineering Technology (Professional Piloting) program is designed to have a combination of aeronautical technology components and professional licensing components. For the aeronautical technology components, the offered courses cover all areas under aeronautical engineering technology such as aerodynamics, aircraft structure and design, propulsion, aircraft systems and control, and material technology. These courses are conducted through lectures/online lectures, tutorials, laboratory experiments, Bachelor degree projects, workshop practices and industrial training, which are all accredited by the Malaysian Qualifications Agency (MQA).
The curriculum is designed with an emphasis on practical and hands-on sessions in the laboratories and workshop. Laboratory works and practices are developed to complement the theory learnt.  In one laboratory session, the number of students is limited to a maximum of 5 students per group. Students are trained to experience more practical laboratory work to prepare them to be a competent professional.
During lecture and tutorial sessions, the maximum numbers of students are normally limited to 30 students. Other instructional methods include group discussion, presentation, assignment, quizzes and group projects. Project-based learning is used to enhance students' ability in problem-solving, troubleshooting skills and critical thinking.
In addition to the traditional teaching and learning strategies, other strategies including active, cooperative, collaborative and problem-based learning, innovation in teaching and learning have been implemented. The application of the learning management system (Author and Google Classroom), game-based learning (Kahoot), multimedia and specific software has been integrated into the learning process as well.
Furthermore, the development of students' soft skills such as analytical and critical thinking, problem-solving, teamwork and effective communication are also embedded throughout the programme courses. Exposures to engineering practices such as talks by industrial advisors, and industrial visits are integrated throughout the curriculum.
For professional licensing components, students will go through structured programs that are authorized by the Civil Aviation Authority Malaysia (CAAM). The programs contain both theoretical and practical aspects that finally enable students to obtain the Airline Transport Pilot License (ATPL frozen). Students will undertake their professional pilot training program at an Approved Flight Training Organization (FTO) in Senai International Airport, Johor. The FTO, called as Asia Aeronautical Training Academy (AATA) (https://www.aata.edu.my), is a collaborative effort between UTHM and its industry partner, ATAS Aeronautics Sdn. Bhd.
UTHM offers conducive infrastructure of modern infrastructure including the library, faculty buildings equipped with the latest lab, lecture halls, sports centres, and comfortable hostels ensure that the University can offer an excellent service for students and lecturers in teaching and learning.
Classroom
The main building hosts two designated classrooms for your theoretical knowledge learning. These spacious and well-equipped classrooms provide you with a comfortable environment to fully absorb all the materials provided in learning session. Both of the classrooms are air-conditioned and are equipped with LCD projectors and white screens. Free wifi is also available throughout the building to enable you to access the internet at any time, anywhere.
Library
The main building is known as the Tunku Tun Aminah Library. The library stores more than 230,000 copies of books, 15,000 titles of thesis and 25,000 items of audio-visual material. The library also subscribes to 24 packages of database, e-books and 170 titles of e-journals. Also located inside this library is the AATA Student Lounge, a lounge designated for you to relax and hangout.
Laboratory
The laboratories are designed to complement your study if you opt to enrol with UTHM Aeronautical Degree + Licence programme. Here is where all sorts of research and experiments are carried out. You will receive exposure to hands-on technology practice.
There are many types of laboratories for you to explore such as Technology Aeronautic Laboratory, Computer Laboratory, Fluid Laboratory, Aerodynamic Laboratory and Material Laboratory.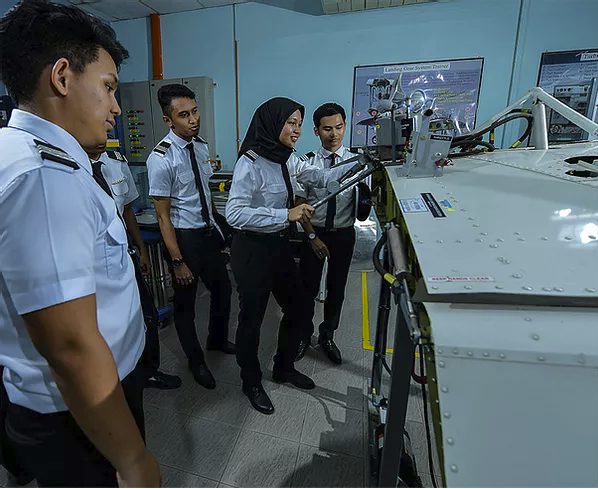 For the BDC, UTHM is collaborating with the Asia Aeronautical Training Academy (AATA) for the licensing part. AATA is approved by the Civil Aviation Authority of Malaysia to conduct the training for pilot licenses. AATA facilities are equipped with conducive computer-based classrooms, a library, and a training area. Each classroom has appropriate presentation equipment and devices and the library is loaded with reference documentation and technical information to assist the student learning experience. To perform the approved training scope, the training area such as dispatch control and briefing areas are provided. Furthermore, flight simulator training devices, instructional equipment, and flight lessons training material are provided to out student.
Career
The aeronautical engineering technology programme with professional piloting qualification will prepares graduates with knowledge, problem solving ability and skills to enter into the respective careers in aviation. UTHM is aiming to produce graduates not only to fulfil the Malaysian need of manpower for professional pilots but also for respective global needs. The graduates are expected to perform not only their specific duties but also to be part of the management team. Graduates may also choose to embark on professional careers in the following areas:
Airline Management
Airline Operations
Airport Management
Airport Operations
Airport Planning
Aviation Charter Business
Aviation Consulting
Aviation Regulation and Safety
Aircraft Part Manufacturing Companies
Aviation/Aerospace Research Institute
Flight Training Organization (FTO)
Flight Simulator Training
Aircraft Design
UAV Operator/Remote Pilot
ENTRY REQUIREMENT FOR INTERNATIONAL STUDENT
General Requirements:
The general academic requirements for admission into the Bachelor of Aeronautical Engineering Technology (Professional Piloting) program is as follows:
Obtained at least three (3) principal passes in the General Certificate of Education ''Advanced level' (GCE) 'A' Level Examination (UK Educational System) in one sitting; OR
International Baccalaureate (IB) with a minimum of six (6) subjects obtained in one sitting; OR
A Diploma or any other Equivalent Qualification recognized by the Government of Malaysia and approved by the Senate of the University; OR
Any other qualifications that are recognized by the Senate of the University as equivalent to the above.
Applicants must have the following subjects taken at the 'A' Level, IB or any other equivalent certificates examinations and obtained a minimum grade C in Mathematics, Physics, and Chemistry; AND
Obtained minimum 500 marks in TOEFL (Paper Based) / TOEFL (IBT) with minimum 65 marks / IELTS with minimum Level 5 / Band 2 in Malaysian University English Test (MUET)
Special Requirements:
Letter of approval to pursue the Commercial Pilot License (CPL/IR) course from the Civil Aviation Authority of Malaysia (CAAM). This letter is to be secured by the prospective student communicating their interest to pursue Commercial Pilot License (CPL/IR) course in Malaysia, and their academic qualifications to CAAM
Age above eighteen (18) years old at the time of application
Pass the interview conducted by the selection committee
Pass any selection tests conducted by the selection committee
Pass medical examination
Minimum height of 155 cm
BMI of approximately ~25
Not short/long sighted; not color blind; no speech disorder (a nasal deficiency, stuttering, etc.); and not vertigo affected
No disability (blind/deaf/ paralyzed / mute) which poses problems to the practical work
Notes:
The University will determine the merit and suitability of the applicant's academic grades received from the home country.
The University reserves the right to determine an alternative relevant subject to Mathematics in the case where the applicant has not taken the subject in his/her examinations.
For those who already have Airline Transport Pilot License or Commercial Pilot License–Instrument Rating or equivalent license certified by CAAM are exempted from the special entry requirement.
Electives and Curriculum Structure
The programs contain theoretical and practical aspects that finally enable students to obtain the Airline Transport Pilot License (ATPL frozen). The students are required to complete 200 hours of flying training in order to become a commercial aircraft pilot, out of which 165 hours are on single-engine aircraft and another 35 hours on twin-engine aircraft. The curriculum summary are given in Table 1.
To graduate from this program, students are required to complete all courses from the aeronautical engineering course components and professional pilot licensing components. A total of 145 credit points must be accumulated by obtaining the passing grade (60% passing marks for aeronautical engineering courses and 75% for pilot license courses) or approved credit transfer/exemptions for the abovementioned courses. At the end of your study, CAAM will issue the commercial pilot license to the students who complete the ATPL paper examination with the required flight experience and successfully pass the practical flight test.
Table 1: ATPL Elective
Year

Semester 1

Semester 2

Semester 3

1

Academic Components

2

Academic Components

3

Academic Components

ATPL Licensing Components

4

ATPL Licensing Components

Total Credits

145
Durations
This undergraduate programme is designed to be completed in four (4) years which consists of 8 regular semesters and 4 short semesters. However, the maximum allowable duration to complete this programme is not more than 18 semesters (12 regular semesters and 6 short semesters) or 6 years.
Poster
Ask Us
If you require any further information please contact us:
Ilmu itu dimiliki oleh lidah yang banyak bertanya, dan akal yang gemar berfikir