Programme Structure:
The programme comprises a total of 40 credits consisting of 8 core courses, 9 elective courses clustered by specialisation and a master project.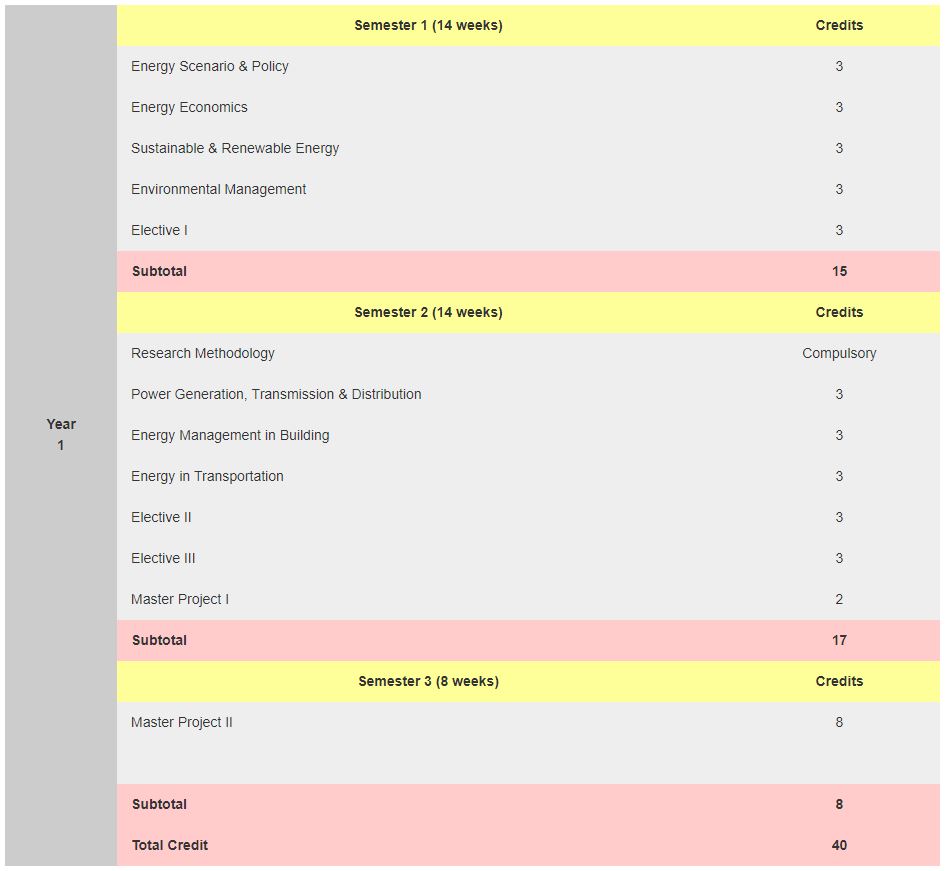 Core Courses: 
Energy Scenario & Policy 
Energy Economics 
Sustainable & Renewable Energy 
Environmental Management 
Power Generation, Transmission & Distribution 
Energy Management in Building 
Energy in Transportation
Research Methodology 
Elective Courses:
Elective courses are offered under 3 specialisations for students to voluntarily choose to endeavour the key energy sectors:  
Specialisation 1: Power Generation & Distribution
1. Power Generation & Plant Design
2. Power Transmission & Distribution Design 
3. Thermal Systems Operation & Design
Specialisation 2: Energy Management & Efficiency**
1. Energy Measurement & Verification
2. Energy Efficient Equipment 
3. Energy Audit in Building
Specialisation 3: Transportation 
1. Powertrain Engineering
2. Energy Recovery System in Transportation
3. Fundamental of Combustion 
Value-Added:
**Graduates in Energy Management & Efficiency specialisation will be certified as a Registered Electrical Energy Manager (REEM) by the Energy Commission Malaysia (ST).